The workshop held yesterday at the headquarters building of the Port Authority of Santa Cruz de Tenerife forms part of the several procedures of the DEMOLA innovation project, which is promoted by the Canary Islands Agency for Research, Innovation and Society of Information (ACIISI), provided port companies with the tools to anticipate future changes in the sector.
At the opening event, Aitor Acha, the Director of the Port Authority of Santa Cruz de Tenerife, encouraged companies to spark innovation in their management processes as a key tool for achieving competitiveness.
Alma Cruz Díez, as a member of the DEMOLA coordination team, presented the profitability of this initiative implemented in Canarias since 2015, which follows a cooperative working methodology between company and university, gathering almost a hundred of innovative challenges pursued by companies and organizations of the islands over nine seasons.
It should be recalled that last year the Port Authority presented the OpPortunity challenge, which forms part of DEMOLA's initiative, with a view to laying the foundation for the progressive development of innovation in the Port of Santa Cruz de Tenerife. It is also suggested that Ports of Tenerife, as a public authority, is one of the most efficient resource users of the Fund 4.0 that, beside the creation of the Innovation Service, will be the key to the future of the Port of Santa Cruz de Tenerife.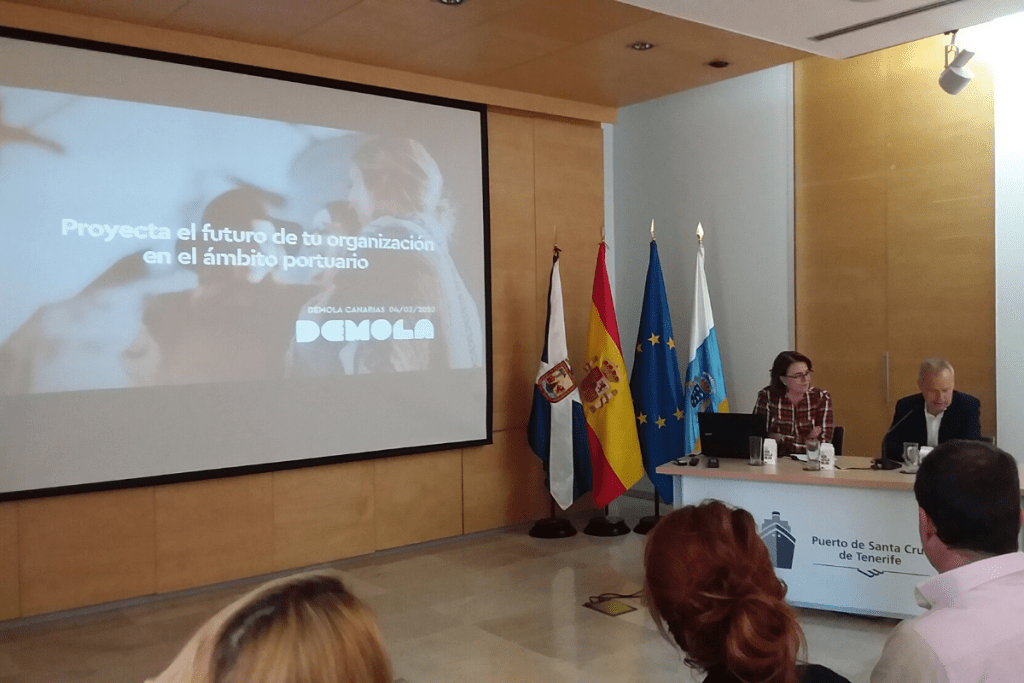 Over 20 companies located in Ports of Tenerife, as well as technicians and port workers, attended this morning's workshop "Retos Futuros. Innovación en el ámbito portuario" (Future challenges. Innovation in the port sector) intended for the port community. In the meeting, they were advised by a team of innovation experts on the identification of challenges and opportunities facing the sector in the coming years to adjust to new scenarios and trends which will determine the future.
DEMOLA's initiative is an open innovation programme emerged in Finland and implemented in the Canary Islands through the Ministry of Economy, Knowledge and Employment for the Government of the Canary Islands for promoting the innovation culture and competitiveness of the business network. For that purpose, in the pursuit of creative solutions, participating companies presented, for a period of two months, challenges that will be resolved with the help of a multidisciplinary student team of the Universidad de La Laguna and the Universidad de Las Palmas.